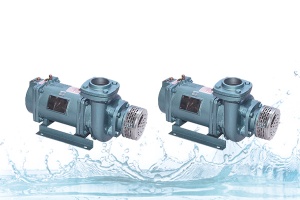 We MAK Pump industries are instrumental in manufacturers and supplier of a huge range of Monoset Openwell Pump. Our offered Monoset submersible pumps are equipped with special waterproof synthetic film insulated with winding wire, and have the capability to customize these pumps as per the requirements and specifications of our clients. Our Openwell Submersible pump is widely demanded in the industry for its high-grade cast iron material with unique hydraulic design gives better performance and efficiency. Our pumps are checked stringently as per the international standards of quality before it is dispatched to our clients. Our Monoset Openwell Pumps are widely available in market at most competitive low rates. Monoset openwell pump are specially designed water lubricated bearings which are used to withstand axial thrust loads with minimum wear and tear.
Features of Monoset Openwell Pump
Designed for underwater applications
No need of priming and foot value
Very Easy Installation, so foundation and installation platform not required
Withstand wide voltage fluctuation 240 volts and 440 volts
Dynamically balance rotating parts ensure minimum vibrations
Replaceable wearing parts and hence longer life
Light weight pump for easy handling
Applications of Monoset Openwell Pump
Water supply for domestic use in Bungalows, Apartments, Hotels, Hospitals, Farm-houses etc
Useful in home pressure booster systems, lawn sprinklers, overhead tanks and watering for gardens
Circulation of water in industries
Specifications of Monoset Openwell Pump
| | |
| --- | --- |
| Head | 5-44 meters |
| Capacity | 400 – 3400 LPH |
| Power Ration | 0.18KW – 0.75 KW |
| Voltage Range | 240 Volts, 440 Volts |
Note: For Best Quality Pumps with timely delivery. Call us for Self Priming Monoblock Pumps, Mini Openwell Pumps, and V3, V4, V6 Submersible Pumps, Submersible Motors, uPVC Column Pipes, Openwell Submersible Pumps and Domestic Submersible Pump requirements.