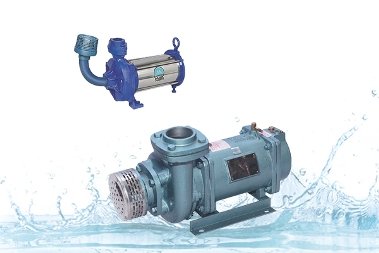 Empowered with rich industrial experience and team, we are foremost Openwell Submersible Pump manufacturer, which is in cast iron construction. These are widely used in agriculture and domestic segment. Our offered Openwell Submersible Pumps that are highly durable bearing, energy saving and have excellent thermal reserve features. This Openwell Submersible Pump with the IS: 14220 and BIS standards, which have been possible to pass on with the support of the passionate team of the professionals. We are manufacturing these pumps using advanced facilities to make sure optimum quality of the product. These pumps are featured with dynamically balanced rotating parts that make sure minimum vibration during running. These pumps operate under water; hence no foot valve, no priming, no suction problems, or less possibility of burn-out of motor. Our pumps are designed for underwater applications and there is no need of foot valve and priming. Further, the pumps are having long life due to cast iron construction, water lubricated journal and thrust bearings, which are dynamically balanced with all rotating parts. Our pumps are designed to withstand wide voltage fluctuation.
Features of Openwell Submersible Pumps
Latest in design and Ultra modern
All the units are thoroughly tested for field
Superior design processes assure a longer life
Very for easy installation
Having high efficiencies which leads to energy saving.
The components are made of selective materials
Effective after sales services
Applications of Openwell Submersible Pumps
Rural and urban draining water installations
Water supplies for high rise buildings
Water circulating system for lawn and garden
Agriculture lift sprinkler and drip irrigation
Industrial service water supply schemes
Decorative water fountains
Specifications of Openwell Submersible Pumps
| | |
| --- | --- |
| Power | 1-25HP |
| Bore | 1.5" , 2", 3" |
| Phase | Single / Three |
| Voltage | 200-240 / 380-460 |
Note: For Best Quality Pumps with timely delivery. Call us for Self Priming Monoblock Pumps, Mini Openwell Pumps, and V3, V4, V6 Submersible Pumps, Submersible Motors, uPVC Column Pipes, Openwell Submersible Pumps and Domestic Submersible Pump requirements.